---
Simple spray to get thicker, fuller and volumized hair in 30 days!
Blended with an advanced haircare formula of plant natural herbal extract, it provides sufficient nutrients for hair growth healthily; re-energizing the scalp; repairing damaged hair and improving the overall hair condition.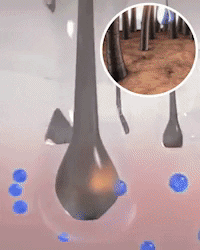 The key ingredients of this miracle herbal root-activating formula is ginger extract that is safe and gentle on your hair follicles and scalp. It deeply penetrates into the scalp and activates the doormant hair follicles, resulting in improving the growth of hair follicles visibly by 86%.
We
GUARANTEE
that this hair spray can
✔️ Instant hydrate and nourish the dry, frizzy and damaged hair✔️ Strengthen the hair root's nutrition✔️ Accelerate hair growth 5X rapidly✔️ Prevent split-ends, hair fall and baldness✔️ Cure and protect the scalp
Experience how your hair transforms from thin, flat tresses to a full-bodied look without harmful chemicals or expensive procedures!
HOW TO USE?
Spray appropriate and even amounts on the scalp surface and hair roots.
Massage gently for 2-3 minutes to be fully absorbed.
Apply ONCE every morning and evening for More Desirable Result.
PACKAGE
Herbal Hair-Growth Essence Spray